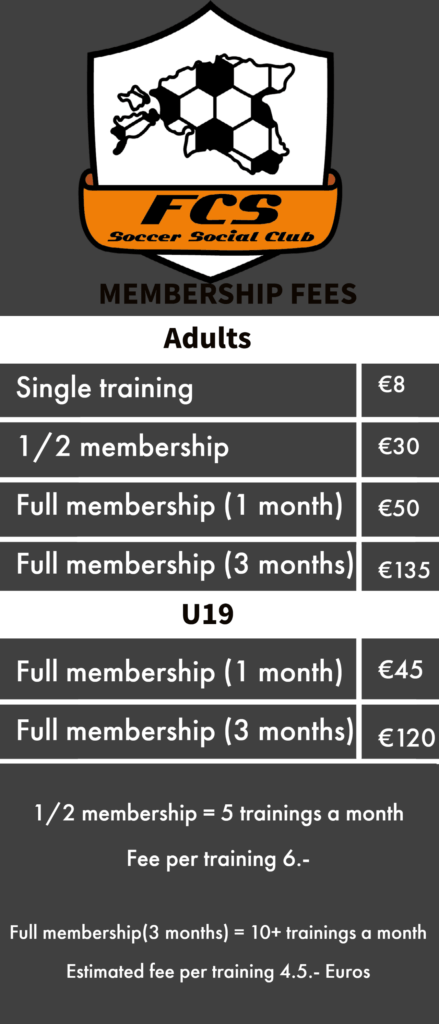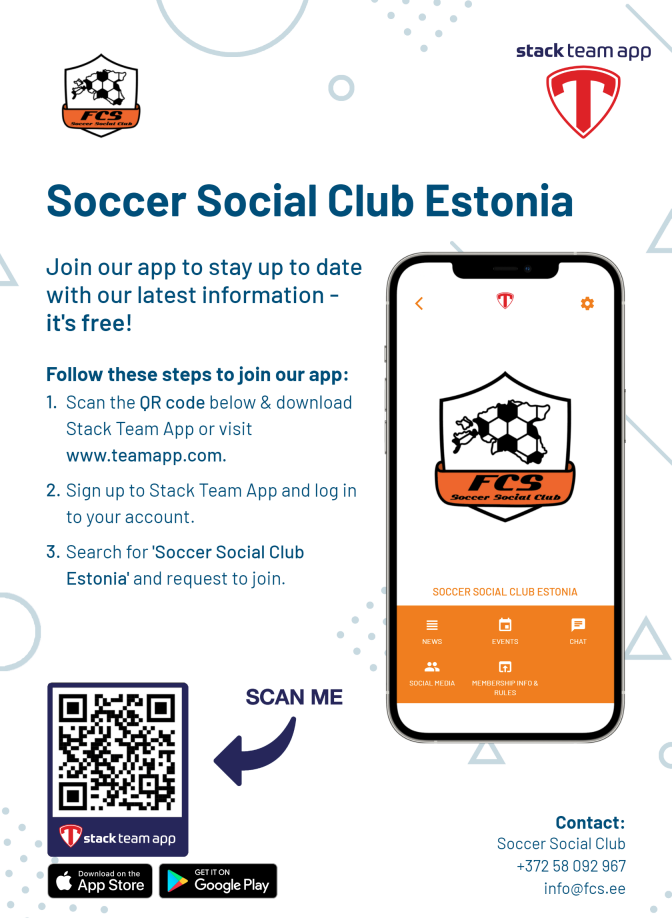 1. Registration:
Please login to fcsocial.teamapp.com with your most used google account or create a new account separately. Klick join us, choose access group OPEN trainings & new players.
Mandatory fields: Access message request, name, phone number and confirm that you have read and accept membership rules.
For more info contact us at info@fcs.ee or through our facebook/instagram messenger.
Please read the following carefully and acknowledge your understanding and agreement by confirming it at the end of the registration form.
---
2. Attending trainings & games
After our confirmation, you are welcome to register for your first training by marking "IN" on a training event in the teamapp application. If the event reaches its max. capacity then the next attending player will be added to the automatic waiting queue. A lot of players change their attendance on the same day, so don't hesitate to add yourself to the waiting list! 1/2 & Full membership players are preferred over single ticket players and are guaranteed a spot in their first priority training(s) if they mark their attendance a day before by 22:00 PM!
NB! If you find out you can't attend OPEN training then please un-register yourself ASAP. If you forgot to remove the attendance at least 60 minutes prior to the training then at first a note in writing will be sent! After the second error an 8.- Eur fine will be added to your monthly bill.
"Discipline & respect is needed for success"
Please arrive at your training location 10-15 minutes before the start of the training.
During OPEN trainings we have fast 10-15 minutes (self)warmup and 60-75 minutes game. Captain chooses game format . Balls, vests, etc. are included.
---
3. Payment options:
Cash, Bank transfer or through stebby.eu (https://app.stebby.eu/pos/soccer.social.club)
Many firms compensate training expenses for their workers. Please ask your boss about it 🙂
Monthly & quarterly membership bills are sent for the running month. Please pay your bills on time! We too have a lot of expenses and plans to grow bigger & better 🙂
Please let us know if you have any questions or problems.
LHV BANK • Soccer Social Club • EE317700771006166866
---
4. Membership types
4.1 Single training
Training fee 8.- Eur has to be paid prior to the training! It is allowed to leave credit for future trainings!
Bank transfer should be done at least 30 minutes prior to the training. If you want to pay by cash, then bring the exact sum to our captain. It is allowed to leave credit for future trainings!
The captain of the training is allowed to exclude you from training if payment has not been made!
…………………………………………………………………..
4.2 One training per week (HALF 1/2 MEMBERSHIP)
With this packet, you can train with us 5 times per month. Choose one priority OPEN training location. If there are spots free then you can have extra trainings at other locations.
Extra training is 8.- Eur (Will be added to your monthly bill)
………………………………………………………………….
4.3 two+ trainings per week (FULL MEMBERSHIP)
Choose two priority trainings per week + Team training & games (if you are selected)
So far everyone with full membersip packet has had a chance to train up to 4-5 times a week. All players in our teams go by full packet.
---
5. Important info:
5.1 Monthly & quarterly memberships start on the first day of the month (If you chose to start a membership in the middle of the month then you can finish the month with a bit cheaper 6.- Eur single training fee).
5.2 Quarterly membership has to be prepaid during the first month of a quarter. Otherwise, your packet will be changed to monthly (Higher fees are applied)
5.3 If you want to cancel your membership let us know 30 days before! (Inform us by writing a free form application info@fcs.ee)
If a player wants to end his membership and lets us know by 15.06 then membership will be ended by 15.07 (50% of the fee has to be paid for the last month).
5.4 If you want to restart your MEMBERSHIP then a fee of 10.- Euros will be applied.
5.5 You can apply for a discount if you are injured or seriously sick for more than 15 days. Membership will be paused after the 15-day buffer period. A discount or pause will be applied only if you contacted us ASAP.
5.6 Adults who are living in Jõelähtme Parish have a quarterly discount of -35 Euros. Full Membership quarterly packet for 3 months costs 100.- Euros. NB! During summer season only (01.04-30.09).