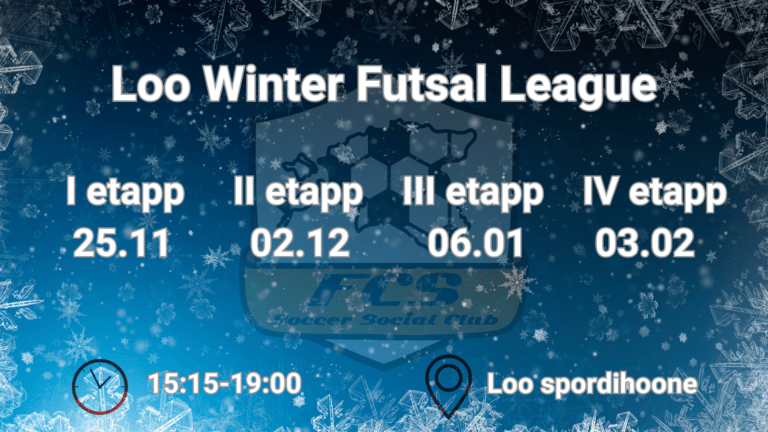 Loo 5vs5 Talveliiga 2023/24
Registered teams:
FCS Valge
FCS SEM & JK Loo mix
Aze United
Palivere SK
FC Zapoos
reserved
Max. 6 teams
Teams who play all stages are preffered!
……………………………………………………………………………………………………………………………………………………
Futsal Rules. Up to 15 players in one team. All level players are allowed.
All teams play against each other for 1x 13 minutes.
Yellow card = 2 minutes one player less or until a goal is conceded (2 yellow cards does not equal a red card)
Red card (game situation, continuous serious verbal act) = Team plays 2 minutes without one player. Player who got red card cant play in the next game.
Red card (serious violent act) = Player is removed from the tournament..
If two or more teams got the same amount of points then we decide stage winner by:
Game results between those teams (points, goal difference, goals scored and then goals conceded)
Overall goal difference
Overall goals scored
Overall goals conceded
Stage winner gets 6 points, IInd place 5 points and so on.
The 4th and final stage is bonus stage. +4 points given to winner, +2 to 2nd place.
Season winner gets a traveling thropy, 10 medallions and -50% entrance fee deducted from next season.
……………………………………………………………………………………………………………………………………………………
League fee is 300.- for 4 stages(75.- per stage). 50% has to be prepaid 7 days before the start of the tournament. Other 50% can be paid before stage 3.
If you are late or want to pay on spot then the fee is 85.- Eur per tournament.
Soccer Social Club • EE317700771006166866
For registration write to info@fcs.ee, 58 092 967 or DM Eerik Elenurm in FB messenger.
r